Boundless / RetroGameRemix- CD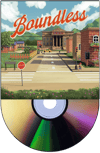 Boundless is a musical tribute to the 90's cult classic game Earthbound, featuring some of the most memorable songs from the game reimagined with faithful full band arrangements.
Signed copies are shipped out at random! Cross your fingers!
1 One Town
2 I Believe
3 What's Your Name
4 Snowman
5 Have A Coffee
6 The Sky Runner
7 4Side
8 Pick A File
9 Summer
10 Magic
11 I Believe (Acoustic Reprise)
12 Smiles & Tears
Give it a listen over on BandCamp!
https://retrogameremix.bandcamp.com/album/boundless
In hand and ready to ship!
Note: If your order contains a pre-order, you order will ship when ALL items are available.